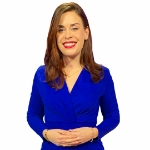 Lauren Roberts Fernández
Director of Fundraising Events
If you attended digital SDL hockey camp, you probably know Lauren as the host of our online Zoom sessions during the pandemic.
For over 2 years, Lauren has been acting as the Director of Fundraising Events of the P.K. Subban Foundation, which combines her passion of helping others, and love of children. Her role extends to the Subban Defence League where she assists Natasha Subban in the planning of camp.
With over 10 years of TV production, and media experience, Lauren brings creativity, enthusiasm, and determination, and is proud to be part of team PKSF giving back to the community, especially in her hometown, Montreal.